Special Announcement
02/01/2021
Pickens County Sheriff's Office Press Release
Sheriff Todd Hall is pleased to announce yet another new service for Pickens County. Pickens County Sheriff's Office is partnering with Pickens County Fire Association and Pickens County Police Departments to provide enhanced emergency services.
Pickens County Sheriff's Office obtained federal funding to acquire the latest in Extrication Equipment. Where seconds and minutes count, readily available equipment is key for handling emergencies.
This powerful new equipment made by AMKUS & DeWalt is battery operated reducing weight and fatigue in it's handling. This equipment includes Cutters and Spreaders, commonly known as "Jaws", light towers for scene lighting, exhaust fans and an assortment of portable saws as well as a charging station for the equipment.
This equipment will be mounted on a Sheriff's Office truck and will be available at a moments notice for any Police Department or Fire Department in need during an incident.
Featured in the photo left to right is; AMKUS/DeWalt Representative Jason Whatley, Pickens County Sheriff Todd Hall, Reform Police Chief Richard Black, Carrollton Police Chief Anthony Durrah, Gordo Police Chief Johnny Stephenson and Aliceville Police Chief Tonnie Jones.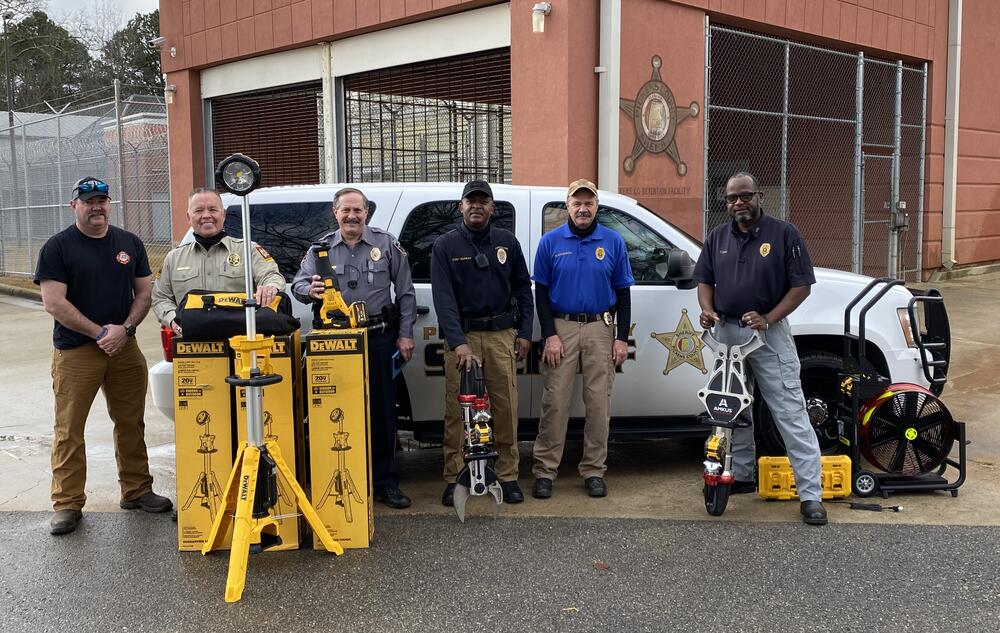 The Sheriff's Office will work in close concert with all the county fire departments. Training will be provided on a weekly basis throughout the county during fire department training meetings.